Corner Bowl Server Manager
SIEM, IPS, Server Monitoring, Uptime Monitoring and Compliance Software
Directory Watcher Monitor Template
The Directory Watcher Monitor Template enables you to trigger actions including appending detail to a CSV file every time a file or sub-directory is created, modified, deleted and renamed without Object Access Auditing enabled. Further configure the Directory Watcher to limit results to a specific set of files using inclusion and exclusion masks. For example, log all changes to files with a .txt extension but exclude files named *_output.txt. Results can be emailed or simply logged to a CSV file fulfilling compliance requirements.
The Directory Watcher Monitor Template uses Windows Shares to subscribe to file system updates in real-time.
How to configure the Directory Watcher Monitor Template:
From the Menu Bar, select File | New. The Create New Object View displays.
From the Create New Object View, expand Templates | File and Directory Monitors then select Directory Watcher Monitor. The New Template Properties View displays.
The Template Properties view contains 5 tabs.
The Options Tab
Use the Directories drop-down to select the directory to configure.
Use the Changed, Created, Deleted and Renamed check boxes to enable the events you would like to monitor.
Use the Set monitor state option to set the monitor state to execute either warning and critical actions.

Set monitor state
State
Action
Disabled
N/A
Monitor state not set. Warning actions executed.
Enabled
OK
Monitor state not set. Warning actions executed.
Enabled
Warning
Monitor state set to Warning. Warning actions executed.
Enabled
Critical
Monitor state set to Critical. Critical actions executed.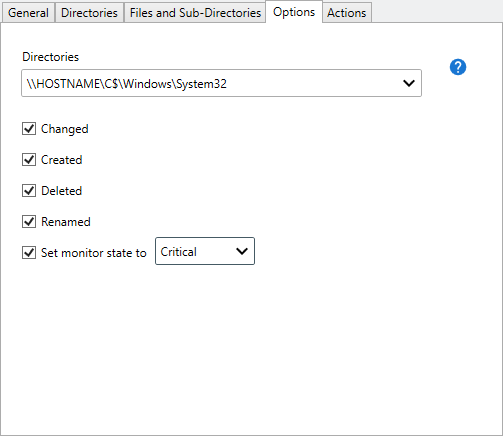 Real-Time Directory Watcher Monitor Trigger Properties