Corner Bowl Windows Syslog Server 2022
Windows Syslog Server, Log Management, Consolidation, Monitoring and Compliance Software Tool for IT Professionals
Start your Free Windows Syslog Server Trial with Support Now
This is one of the best and most robust systems that I have found to help with the management of my servers! This software has greatly reduced the amount of downtime we have in our environment because of its capabilities. Thanks for creating such great software!!
Aran Miller
Corporate IT Operations Section Head
SARA Inc.
October 20, 2021
What is Windows Syslog Server?
It is...
an enterprise class Centralized Syslog Management and Monitoring Software Tool
a Centralized Log Consolidator
a Real-Time Syslog Monitor Software Tool
a Log Analyzer Tool
a TCP and UDP Syslog Server
Compliance Reporting Software
a powerful Syslog Viewer with built-in paging, advanced search and filter capabilities
Compliance Software for PCI/DSS, HIPAA, SOX, CJIS, JSIG and GDPR
What does Windows Syslog Server do?
Gets you compliant by centralizing and monitoring syslogs from all your mission critical hardware.
Centrally consolidates log file entries to MySQL, Microsoft SQL Server, elasticsearch, CosmosDB or to flat file
Real-Time monitors syslog messages for critical events
Schedules compliance and auditing reports
Sends SMS and email alerts and notifications
Remote executes custom Powershell scripts
Automatically deletes expired centralized consolidated log entries and native log file backups
Provides a paged view of log entries enabling IT professionals to quickly search, filter and analyze GB sized log files
How does Corner Bowl Windows Syslog Server do it?
Windows Syslog Server starts TCP and UDP Syslog Servers to receive messages, monitor and centralize syslogs from devices such as switches, routers and firewalls. Once harvested, log entries are saved to either a local or offsite log repository. Windows Syslog Server provides you with 5 different methods to centralize your log entries including MySQL, Microsoft SQL Server, elasiticsearch and CosmosDB. Don't worry, out-of-the-box Windows Syslog Server saves data to its own flat file system format getting you up and running without any required 3rd party integration.
Bind to any port and Network Interface Card.
Includes a built-in DNS cache enabling syslog messages originating from any platform to be centrally saved using their fully qualified hostnames.
Optionally define syslog message delimiters such as CRLF, CR, LF or Null.
Automatically cleans up idle syslog client connections.
What else does Corner Bowl Windows Syslog Server include?
Automatic Log Entry Retention Policy
Syslogs typically generate massive amounts of data which can easily fill a server's disk ultimately bringing down the server. Managing consolidated Syslogs is simplified with our automatic Syslog entry retention policy. Out of the box Windows Syslog Server automatically removes and optionally archive messages to an archive database freeing up disk space.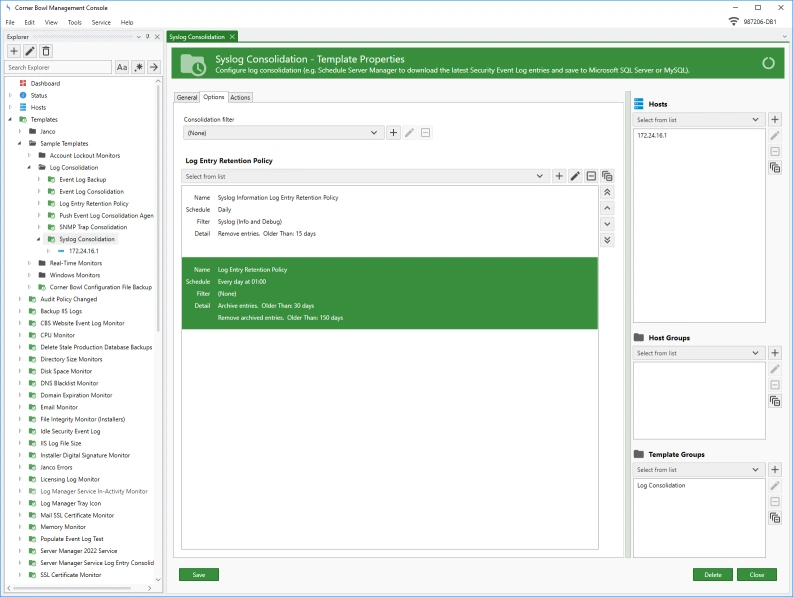 Frequency Rules
Windows Syslog Server support frequency rules that enable you to get notified when a specific message occurs multiple times within a period of time or does not occur within a period of time. For example:
Get notified when an error occurs 3 times within 5 minutes.
Get notified when an expected daily message has not been received.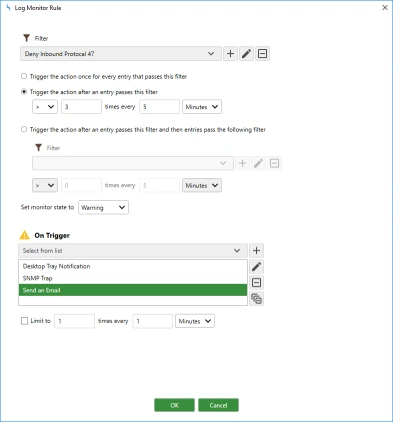 Windows Syslog Server Feature Set
Features
Description
Linux, Unix and Network Hardware Syslogs
Log Consolidation
Configure syslog messages to be saved to the log repository database (e.g. Save all received syslog messages received from switches, routers and firewalls to the log repository database).
Log Monitor
Configure log monitoring (e.g. Monitor received syslog messages then trigger notifications when search criteria is detected).
Data Retention Policy
Configure how long to retain syslog entries in the log repository database (e.g. Archive syslog entries older than 30 days and remove entries older than 90 days).
Syslog Analyzer
Page through data, search for criteria, highlight entries, view entry frequencies, mark entries and export result sets.
On-Demand and Scheduled Reports
Summary Reports
Create daily summary reports so you can review your entire network in an email.
Inventory Reports
Create daily inventory reports that include operating system version, CPU detail, memory, locale, Corner Bowl Agent information version and last check-in.
Syslog Reports
Create daily syslog reports so you can monitor the health your Linux/Unix and hardware devices such as switches, routers and firewalls.
Last Updated: November 15th, 2021