Corner Bowl Directory Monitor
Enterprise File and Directory Monitoring Compliance Software Tool for IT Professionals
a sub-component of Server Manager and Disk Monitor
Start your Free Directory Monitor Trial with Support Now
Very easy to setup and use. Most products are overly complex and you don't use all/any of the features, but that is not the case with Corner Bowl. Price was also very good. Support response is excellent! Weekly reports give us a good idea of what is going on with the machines in the system and it hits all of the auditors check boxes.
Steve Connell
Team Lead
Interstates Control Systems
July 30, 2020
What is Directory Monitor?
It is...
a network-wide file and directory monitor
a Directory Size monitor
an Access Permissions monitor
a File Integrity Monitor or FIM
a File Collection and Retention Policy enforcer
a real-time File System Auditing monitor
a real-time Directory Change monitor
a remote Temporary File Cleaner
a remote Directory Cleaner
a File Size and Inactivity monitor
Compliance Software for PCI DSS, HIPAA, SOX and GDPR
What Reports are Included?
File and directory access permissions report
Duplicate Files Report
Largest Files Report
Recently Access Files Report
Least Accessed Files Report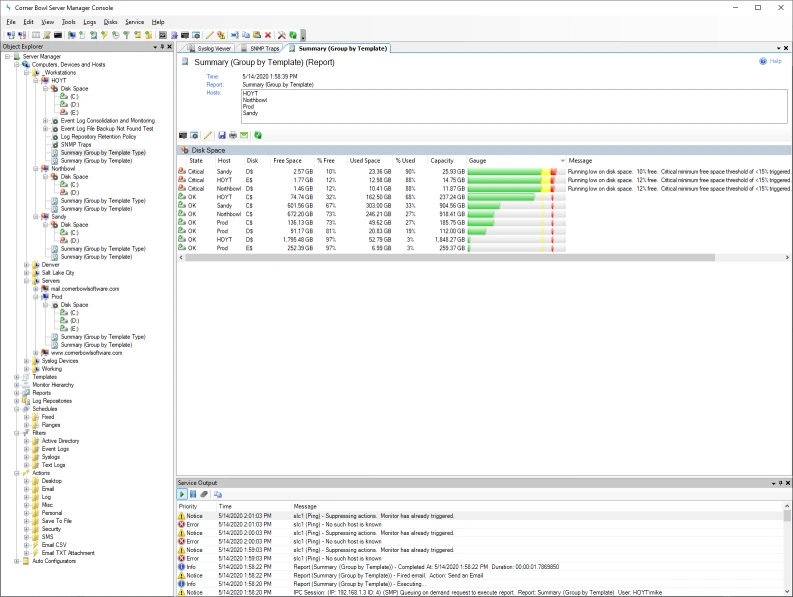 How does Disk Monitor do it?
Disk Monitor installs on a single Windows Server as a Windows Service. The service scans Windows directories using Windows Shares. Folder size is calculated on Unix and Linux based operating systems remotely through SSH and SFTP. Real-Time File Audit Reports and File Access Permissions Reports are generated on Windows servers remotely using WMI. Results can be displayed in the Remote Management Console, saved to file or emailed to your team. Directory Monitor configurations support inclusion and exclusion rules enabling you to target and ignore specific files, file types and sub-directories.
Directory Monitor Templates
File Integrity Monitor
The File Integrity Monitor template enables network administrators to monitor a directory for changes made to files. The template scans directories using Windows Shares and SFTP/SSH to create file access, file attribute and file content baselines then continually re-scans to let you know when a file is accessed, modified or deleted. Access Permissions are scanned on Windows Servers using WMI.
| | |
| --- | --- |
| Accessed | Notifies you when a file is accessed. |
| Modified | Notifies you when a file is modified. |
| Created | Validates the file was not replaced with another file that contains a different creation time. |
| Attributes | Validates file attributes such as Hidden and Read-Only have not changed. |
| Access Permissions | Performs and exhaustive scan of file permissions then notifies you when any permissions have been added, modified or removed. |
| File Contents Hash | Performs a hash using the file contents then notifies you when any bits have changed. |
| File Contents | Baselines the entire file contents then validates no bits have changed. |
| File Size | Notifies you when the file size changes. |
Directory Size
A directory exceeds or falls below a threshold size or percent of disk size.
A directory sized changes between scans by a threshold size.
The number of files exceeds of falls below a threshold count.
The Console includes and on-demand recursive directory size explorer enabling network administratorsto drill down into the largest directories to analyze which directories are consuming the majority of the disk space.
Real-Time File System Auditing
The Real-Time Audit File System template enables network administratorsto get notified when files are created, updated and deleted. Unlike the Directory Watcher Monitor, alerts include the user that made the changes. This function requires either a Server Manager or Log Manager license.
Directory Watcher Monitor
The Directory Watcher template enables you to trigger actions including appending detail to a CSV file every time a file is created, modified, deleted and renamed without Object Access Auditing enabled. The Console includes the history of events providing an internal auditing mechanism. A configurable data retention policy automatically removes old data when no longer needed.
File Collection and Retention Policy
The File Collection and Retention template enables you to move files from one location to another then optionally delete files that have reached a threshold age in both the source and destination directories. This template can be used to backup database backups, configuration files and IIS log files.
Directory Cleaner
The Directory Cleaner Template enables you to automatically delete old files. For example delete database backups and IIS log files that are older than 30 days.
Temporary File Cleaner
The Temporary Files Cleaner enabled network administrators to schedule all System and User temporary directories on any Windows host to be deleted when temporary files reach a threshold age. The Console includes an on-demand Temporary Files Report that enables network administrators to remotely view the temporary files on any Windows host. The report viewer provides tools to recursively scan the directory sizes and delete sub-directories and files.
Directory Monitor Reports
File and Directory Access Permissions Report
File and Directory Access Permissions Reports are comprised of a list of directories, files, users, and assigned permissions (e.g. read, write, delete). You have the option to scan one or more directories contained on one or more computers. Scans can recursively scan all sub-directories. When recursively scanned the Report can show detail for each file or summarize by concatenating permissions.
Duplicate Files Report
Duplicate Files Reports list all files that have the same name, and/or are the same size, and/or have the same modified date. You have the option to scan a one or more directories contained on one or more computers.
Largest Files Report
Largest Files Reports list the largest files on a disk within a directory structure. You have the option to scan one or more directories contained on one or more computers.
Recently Access Files Report
Recently Accessed Files Reports list recently accessed files. This Report scans a directory and sorts all files ascending by last accessed time. The top results are displayed. You have the option to scan a one or more directories contained on one or more computers.
Least Accessed Files Report
Least Accessed Files Reports list files that have not been recently accessed. This Report scans a directory and sorts all files ascending by last accessed time. The top results are displayed. You have the option to scan a one or more directories contained on one or more computers.
Available Notifications, Alerts and Actions
Send Emails
Send custom email alerts and notifications with optional log file attachment support.
Send Microsoft Teams Messages
Send alerts and notifications to Microsoft Teams Channels via Incoming Webhook Connector.
Send SMS Messages
Send text messages through various popular SMS providers such as Twilio.
Launch a Script
Remote launch your own custom Powershell scripts, batch files and executables.
Manage Windows Services
Remote stop, start and restart Windows Services.
Fire SNMP Traps
Need to integrate into your enterprise systems? Fire Simple Network Management Protocol (SNMP) traps when critical events are detected.
Write to File
Write, append and backup schedule reports to HTML, CSV, TXT and PDF file formats.
Write Event Log Entries
Write custom alert and notification messages to any Windows Event Log on any machine.
Send Syslog Messages
Send custom Syslog alerts and notifications. You can even relay Syslog messages to another server.
Display Desktop Notifications
Client/Server architecture enables you to receive real-time notifications on your personal desktop or laptop.
Constant Delivery Pipelines
Create
Automatically apply monitoring, notifications and reporting to new servers and workstations.
---
Runs scheduled scans on Active Directory or any Directory Service provider then applies configuration templates to discovered machines.
Update
Automatically update and re-apply configurations ensuring new and existing rules are rolled to target groups of machines.
---
Runs scheduled scans then applies new and updated configuration templates to existing machines.
Delete
Automatically remove hosts from the software when servers or workstations are decommissioned.
---
Runs scheduled scans then removes machines either not found or not passing custom filter criteria.
System Requirements
Supported Operating Systems
Windows Server 2019, 2016, 2012, 2008 R2
Windows 10, 8, 7 SP1
Supported Architecture - 64-Bit and 32-Bit
Disk Monitor can be installed on both 64-bit and 32-Bit Windows.
Memory
8 GBs of available memory, 16 GBs suggested when monitoring 100s of endpoints.
Microsoft .NET Framework 4.8
The installation detects if the .Net Framework 4.8 is already installed. If not, the framework is automatically downloaded from Microsoft and then installed. Please note the framework may take a significant amount of time to install. Please be patient while the installation completes.
Domain Administrator Account
To access and manage remote resources Log Manager requires domain administrator credentials. If off-domain, then local administrator credentials. The first time the application is run, the onboarding wizard will prompt you to assign then necessary credentials to the service.
Windows Management Instrumentation (client and server)
Many functions within Internet Server Monitor utilize Microsoft's Windows Management Instrumentation (WMI) API (e.g. Event Log management, CPU and memory monitoring). This software includes options to optimize WMI packet size and performance.
Licensing
Disk Monitor is a sub-component of both our software packages, Corner Bowl Server Manager and Corner Bowl Event Log Manager. To access Disk Monitor functionality either install Corner Bowl Server Manager or Corner Bowl Event Log Manager then apply either a purchased Server Manager or Disk Monitor license.
Corner Bowl Software is sold in node packs. Each unique IP address or hostname that is monitored, scanned or managed by the software is a node.
Corner Bowl Software can be installed on a single host or up to as many hosts as nodes purchased.
For example, a 100 node license would enable an IT professional to install the software on 3 servers with one installation monitoring 50 servers and the other two installations monitoring 25 workstations each for a total of 100 nodes.
After you purchase a license, you have the option through this website or your reseller to upgrade your existing license with more nodes.
Once you have purchased a license, a license key will be emailed to you. If you purchase through a reseller, a claim link will be emailed to you enabling you to retrieve your key from this website. Once you have your key you will register online through the software's management console. If you are installing this software on an Air-Gapped network, you will generate license key files through this website where you will also find detailed instructions on how to apply your Air-Gapped key files.
Last Updated: July 13th, 2021