Corner Bowl SNMP Monitor 2022
SNMP Trap and Variable Monitoring Software Tool for IT Professionals
a sub-component of Server Manager and Internet Server Monitor
Amazing Software and Support!
Corey R.
Systems Administrator
June 29, 2022
What Does Corner Bowl Include?
A SNMP Trap receiver or SNMP Trap server enabling network administrators to monitor SNMP Traps from any device, host or operating system.
A SNMP Get Monitor Template enabling network administrators to poll SNMP Variables, apply complex filter criteria and fire alerts.
A SNMP Trap Action enabling network administrators to fire SNMP Traps on behalf of each managed device through Corner Bowl.
A SNMP Browser enabling you to walk any devices SNMP Variable tree without the requirement of loading MIB files.
How Does Corner Bowl Do It?
Corner Bowl extends open source SNMP libraries to receive SNMP Traps and poll SNMP Variables.
Corner Bowl automatically manages any device sending SNMP Traps to the localhost.
Corner Bowl includes a consolidation database enabling network administrators to save SNMP Traps as long as compliance audits require.
SNMP Actions are fired though our own Microsoft SNMP Agent DLL enabling network administrators to utilize the built-in SNMP Service provided on all Microsoft's operating systems.
SNMP Manager / Network Management Station (NMS)
Corner Bowl is a SNMP Manager also known as a Network Management Station (NMS) responsible for monitoring managed devices such as switches, routers, printers and Linux machines.
Receive and act on SNMP Traps.
Save SNMP Trap history to the data repository for the duration required by compliance audit requirements.
Browse and monitor SNMP variables using complex filter criteria to match any requirements.
Managed Device / SNMP Agent
Corner Bowl is an SNMP Agent that simplifies management by aggregating all of your Managed Devices without the need to install SNMP Agents on each Managed Device. Corner Bowl includes a pre-installed SNMP Trap enabling network administrators to forward triggered monitor detail to either the local SNMP Manager (Corner Bowl) or to external enterprise SNMP Managers such as:
For example, fire an SNMP Trap when free disk space reaches a critical threshold.
SNMP Browser
Corner Bowl includes an SNMP Browser enabling you to walk any devices SNMP Variable tree.
Right click on any SNMP Variable and create monitors using complex graphical filter criteria as well as C Sharp script criteria.
Corner Bowl gets network administrators up and running quickly by removing the requirement of tracking down and loading MIB files into the SNMP Browser.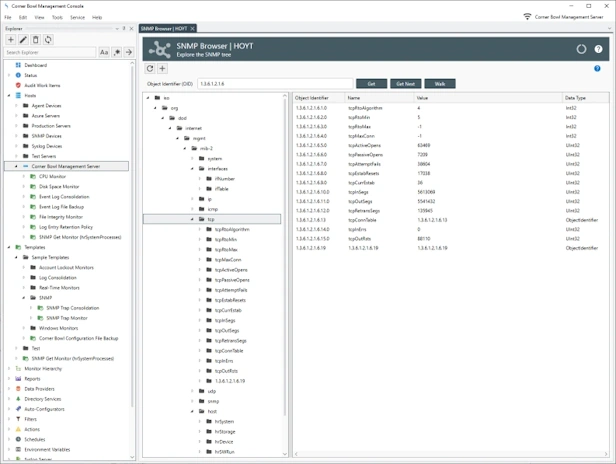 SNMP Trap Receiver Configuration
Run the SNMP Trap receiver server on any port and bind to any local IP address.
Supports DNS lookup to convert device and Linux server IP addresses to hostnames for each identification.
Map OID values to friendly names.
Assign multiple SNMP communities for accessing secured SNMP Variables.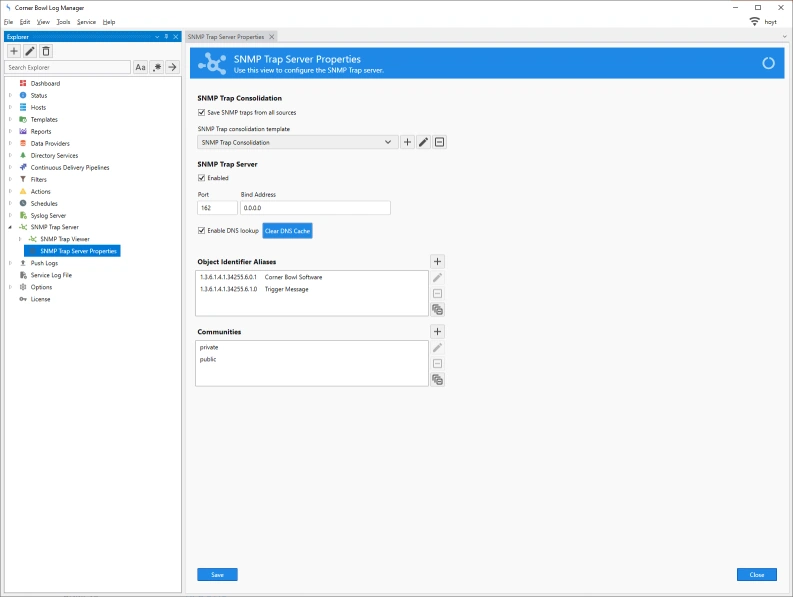 Last Updated: June 22nd, 2022