Directory Cleaner Template
The Directory Cleaner Template enables you to automatically delete old files (e.g. Delete database backups and IIS log files that are older than 90 days). This template is typically used by systems administrators to delete old database backups, IIS log files and other data files that are no longer necessary to maintain freeing up critical disk space.
The Directory Cleaner Template uses Windows Shares, SFTP or FTP/S depending on the host type to scan and clean directories on Windows, Unix, Linux and other operating systems.
How to configure the Directory Cleaner Template:
From the Menu Bar, select File | New. The Create New Object View displays.
From the Create New Object View, expand Templates | File and Directory Monitors then select Directory Cleaner. The New Template Properties View displays.
The Template Properties view contains 6 tabs.
The Options Tab
Use the Directories drop-down to select the directory to configure.
Use the Delete target files option to set the number of days a file must age prior to being deleted. Specify 0 to delete all target files.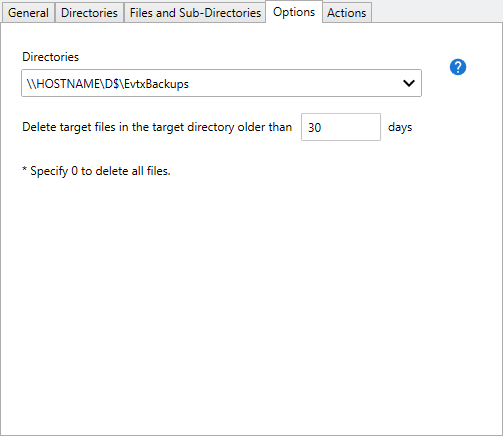 Directory Cleaner Properties